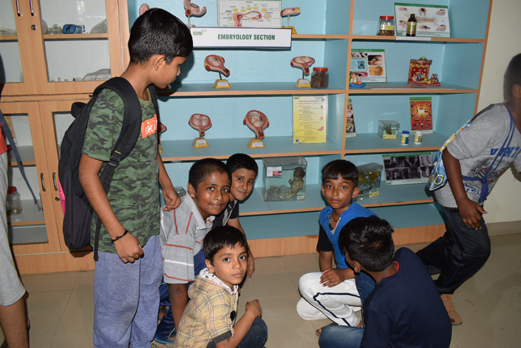 SUMMER CAMP FOR CHILDREN
Department of Kaumarabhritya in association with Department of Swasthavritta conducted a six days summer camp for children aged between 8-16 years from 22-04-2019 to 27-04-2019. 27 children registered for the camp. The camp began with inauguration on 22-04-2018 by DrJagadeesh .K, Principal SDMIAH, Bengaluru and Executive officer Kusuma madam. Other activities of the day included Health checkup, Prakriti assessment, diet counselling and Talk on Importance of nutrition in children and importance of play in children for parents by Dr Reena Kulkarni and Dr. Srilakshmi followed by warm up yoga.
Day 2 activities included yoga practice, training on Neti, awareness on Dinacharya practice, Kavala and Gandusha in maintaining health, visit to Samhita vana- herbal garden, visit to Kaumarabhritya department and Anatomy museum. Children enjoyed knowledge of internal body parts and herbs which grows in and around their surroundings. Children were distributed plants to be grown at home .

Day-3 activities included yoga practice, pranayama, training on Neti and craft making. Children made beautiful wall hangings, pen stand and paper carry bag.

Day-4 activities included yoga practice, pranayam and mind games. Every children were given sarvanga abyanga and nadi sweda .

Day-5 activities included yoga practice, pranayama .Children were done an eye and ENT checkup at Shalakya opd. Different sports were conducted for children.
Day 6– activities included yoga practice, pranayama and take home points on how to practice yoga daily at home. A quiz was conducted on the training session as a mark of assessment and knowledge dissemination.

The programme was ended by valedictory programme presided over by Mrs. Kusuma, EO, SDMIAH and Dr Gururaj Jagirdar graced the occasion ,gave away prizes to children who performed best during yoga training, overall best performance and special prize was given. Members of the training camp included Dr Reena Kulkarni, HOD, Department of KB, Dr Srilakshmi, Assistant Professor, Department of Kaumarabhritya, Dr Sonia, Associate Professor, Department of Swasthavritta, DrAnvita (Yoga instructor), DrGururaj, HOD, and Associate Professor, Dept of shareereRachana, DrPoornima, Associate Professor, department of Dravyaguna, Dr. Sharan Prasad, Associate Professor, and Dept of shalakya tantra and Dr. Dipti, Assistant Professor, Dept of Shareera Rachana. All the days children were give light refreshment which consisted Badam milk, PanchvalkalaKsheera, Mudgapayasa,coccum juice and Mudga juice.