Panchakarma department is a clinical department established to promote quality education to the students, with the motto of "swasthasya swasthya rakshanam aturasya vikara prashanam ".
Panchakarma is the super speciality department of Ayurveda which deals with the treatment modalities like Vamana(therapeutically induced emesis), Virechana(therapeutically induced purgation), Basti( therapeutically induced enema – oil and decoction based), Nasya(therapeutic nasal drops), and Raktamokshana(therapeutic blood letting) and all types of Bahyasnehana( external oleation therapies), Swedana procedures( therapeutic sudation procedures) meant for deep and complete cleansing of the system to bring back equilibrium of deranged biohumors.
Our department is focussing to provide classical knowledge regarding Panchakarma and its utility for various ailments from Paediatrics to Geriatrics specially emphasisng on Orthopaedic,rheumatology, Neurology, pulmonary and other disorders.
The academic facility of our department has various panchakarma procedure models, specimens, informative charts in display and departmental reference library lodges more than 80 books.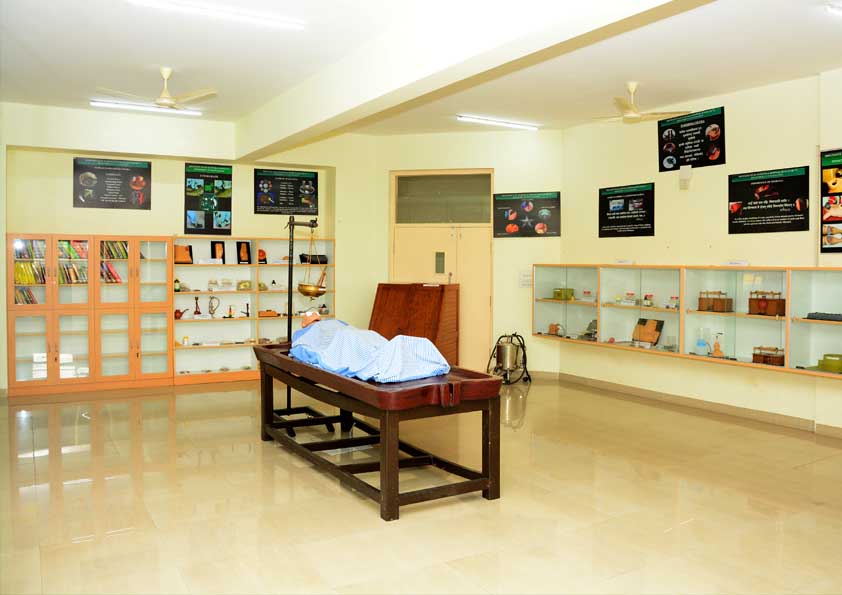 Vision
"swasthasya swasthya rakshanam aturasya vikara prashanam "
"Enter to learn indian medicine and exit to serve the needy to create healthy society"
To restore and rejuvenate the health and to manage and cure the diseases from paediatric to geriatric conditions by adopting suitable validated panchakarma procedures.
To create awareness in the society and to educate students regarding the importance and uniqueness of panchakarma therapies.
To uplift and uphold the role and importance of panchakarma in other specialities of Ayurveda
Mission
To impart classical method of treatments and providing more authenticated, scientific measures with traditional touch.
To prepare skilled, dedicated, passionate Panchakarma Specialists to the society and to provide quality service in every possible place and means.
To take up the research activities for in-depth analysis and applications of the Principles of the Panchakarma.
Departmental Initiatives
To provide exclusive and extensive Hands on Training to the students to make them aware of the practical approach, differentiate between theory and practical aspect and to observe changes on daily basis.
The practical exposure to the students given with respect to OPD, Panchakarma Procedures, preparation of Panchakarma Yogas and observation of IPD patients to analyse the efficacy of Panchakarma treatment and to Educate and encourage the students and the public to undergo Rutu Shodhana for healthy society.